May has arrived, and with it has brought the beginning of the British flower season. The Gaelic festival of Beltane held on May Day (1st May) marks the celebration of the half way point between the spring equinox and the summer solstice – the beginning of summer.
And as the woodland floors are carpeted in bluebells, trees are snowing down their blossom, and colour is popping up from the undergrowth, it's easy to feel that summer is well and truly on her way – that winter is gone for another year. Over the next few weeks our hedgerows, fields and gardens will begin bursting into a vibrant show of colour and texture that will take us all through the summer. An infectious celebration of life that for me brings a feeling of hope, celebration and joy! There are so many ways to enjoy the beautiful colours and flowers that start showing from this point in the year – from bringing in some simple stems to a bud vase to enjoy the simplicity of a single stem, making a floral wreath to welcome new energy into your home, or even pressing some fallen blossoms to stick on a birthday card. My favourite thing about this time of year, when everything is bursting in to life, is reminding myself of the rich and amazing stories that each plant carries. Flowers are so much more than beautiful – (although they are certainly that too!) But each has a story, a remedy, a myth or legend that gives them a depth and power that we may initially overlook. Each flower is like a character, and it's so exciting getting to know them all…
Bluebells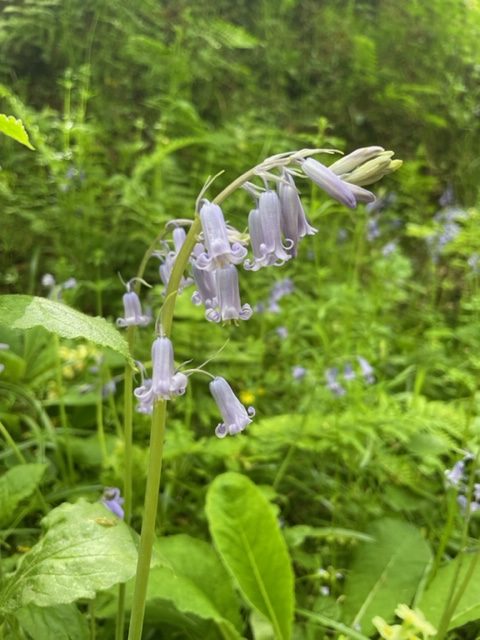 Bluebells can be seen in all their glory at this time of year in low, shady areas such as woodland floors, creating an enchanting, almost other-wordly sea of blue. The bluebells longstanding association with magic and the fairy realm is understandable when stepping in to one of these areas – the sweet scent and vibrant colour makes for a magical and ethereal experience.
Bluebells have been associated with fairies and magic enchantment for as long as humans can remember and its easy to see why… with a rich history in English folklore, it is believed that the fairies use bluebells to lure people into their kingdoms, and  if you pick a wild bluebell – you may be led astray by fairies and lost forever. Some believe that if a child picks a bluebell from a bluebell woods they will be taken by the fairies and never seen again. Trampling on a bluebell floor will anger the fairies and if you hear a bluebell ringing – it's bad news, as the bluebells ring to call the fairies to gather, but if a human ear detects this sound, it's a death knell. 
Other folklore believes wearing a garland of bluebells will compel you to tell the truth, and In floriography, bluebells represent constancy, gratitude, and humility.
Many country folk believe it is bad luck to pick bluebells – and with the aforementioned fairy risks it's easy to see why! However, if you are going to take your chances, as with any wild plant or flower, always be sure to pick from an area where there are many growing in abundance, and it can help to use scissors or secateurs to avoid accidentally pulling the bulb up.
These delicate flowers press brilliantly, and a couple of stems in a bud vase is the kindest way to enjoy them, partly so you can bask in their glory without any distraction, and partly because they are a wild flower and should be best enjoyed out in the wild where they belong. Keep picking to a minimal and enjoy them in their natural environment – and remember to thank the fairies before you leave!
---
Lily of the Valley
If you're lucky, you may come across the lovely Lily of the Valley in May, either on your walks or in some florists or garden centres. This small but mighty little flower has strong historical associations in both religion and mythology. Lily of the Valley has an important place in Christianity, and is a prominent flower in the the bible. Sometimes named 'our ladies tears' – it is said that when Mary cried at the crucifixion of Jesus, her tears fell to the earth and Lily of the Valley grew where they landed. Some believe that the teardrop shaped flowers are the tears of Eve from when she was expelled from Eden. Because of these strong associations with tears and mourning, Lily of the Valley is a popular choice for sympathy and farewell arrangements, however they also have a lighter side and more upbeat connotations –
Their strong association with the month of May mean they are a popular choice for Mayday or Beltane celebrations, and in rural areas on Mayday, the may queen would wear a crown of Lily of the Valley as an emblem of spring. Also a popular choice for weddings, these beautiful and delicately scented flowers are often added into bridal bouquets – perhaps because in floriography, as white flowers often are, they represent innocence, purity, and new beginnings.
---
Lilac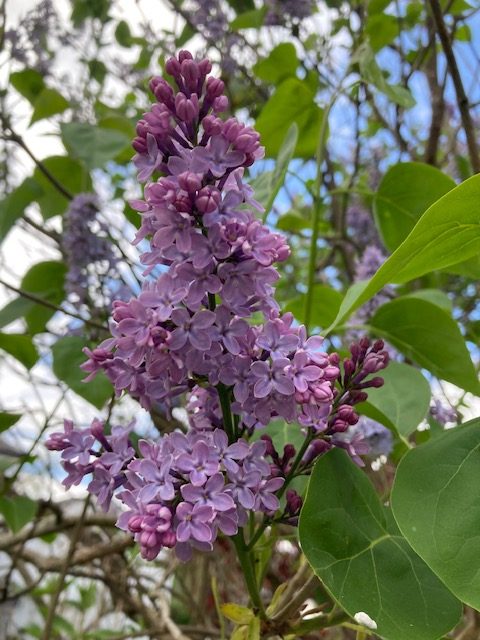 The lilac is in bloom and the scent is unmissable. Flowering for only a very short amount of time each year, lilac is a heady perfumed bloom with beautiful multi-flower heads that has been used throughout history for many purposes.
My favourite way to enjoy lilac is by steeping some of the flowers in either honey or sugar, and allowing the delicate and floral flavour to infuse in, for use in sweet treats,
drinks or teas throughout the summer. The tiny flowers are also edible, and look beautiful scattered over cakes or salads, or even in drinks!
A relatively early spring flower, lilac, with its heavy scent, has long been used to break through the heavy air of winter and announce new energy. In the past, lilacs would have been placed on coffins to mask the smell of death, or brought into the house to clear the winter air with their fragrance and announce the arrival of light and warmth.
Lilac usually comes – unsurprisingly given its name – in hues of lilac and purple – there are some white varieties too, however it is bad luck to bring white lilac into the house!
In Victorian floriography, lilac is associated with old love, or unforgotten love, and would often be seen worn by widows at this time. Other associations, probably due to its spring blooming, are flirtation and romance – a perfect flower to indicate the beginning of a summer fling!
---
Forget-me-nots
One of my all time favourite flowers, forget me nots, with their perfect sky-blue colour, begin to come into their own at this time of year. A very resilient flower– you may find forget me nots pushing up through the cracks in pavements, growing out of walls, or running riot across gardens or parks. Although often considered a weed, forget me nots are a very bee friendly flower, and so are worth considering as an addition to your wildflower pots or borders!
There are many stories and myths surrounding this flower and how it got its charming name – but my favourite has to be the one that states on the day of creation, when the creator was giving out all the colours to all of the flowers, he heard a tiny cry from a meadow – "forget me not!" All the creator had left was the blue which was to be used for the sky, and so he used a small piece of the sky to colour the tiny petals of this delicate flower.
Unsurprisingly, in floriography, forget-me-nots represent true love and would be worn by lovers to state the seriousness and faithfulness of their love whilst parted.
You may find that forget me nots wilt rather quickly once picked – as many wildflowers often do. Perhaps their way of saying that they are best enjoyed in their natural habitat! However, if you do want to enjoy some, they press excellently, and make a really beautiful addition to any pressed flower crafts you may have on the go.
---
Peony
We are, to everyone's excitement – very fast approaching peony season. You can expect to see these beauties appearing in florists and gardens within the next few weeks. Peony season is short, which perhaps is what makes it all the more sweet. These lush, large, showy blooms are enormously popular for a reason – they last for a long time, smell utterly divine, and may well be one of the most photogenic flowers out there!
Originating from the medicinal healing gardens of China, peonies have long been associated with medicine and healing. The name Peony can be traced back to 'Paen' – the ancient Greek god of medicine – who is said to have been transformed into a flower by Zeus after healing Pluto with roots from a powerful medicinal plant. And in Europe peonies have been used throughout history to treat all manner of ailments from headaches and toothache to menstrual issues!
In floriography, surprisingly, the peony represents bashfulness and shame – perhaps due to another Greek myth involving Aphrodite who witnessed apollo flirting with Paeonia – when the lovers were caught, Paonia blushed a dark pink, and Aphrodite turned her in to a peony flower as punishment!